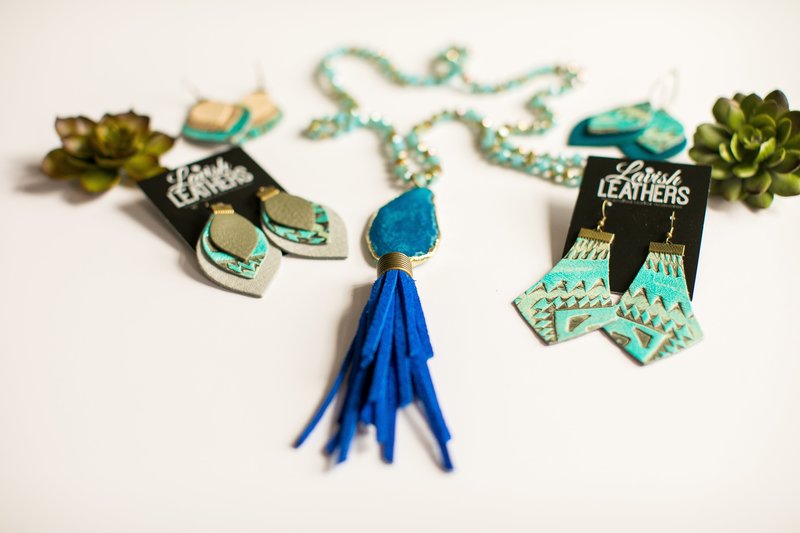 How do I care for my earrings?
To keep your LLs in great condition it is best to hang your product up or lay them flat. Because LLs are so lightweight we suggest wearing the plastic earring backs at all times.
The leather style or size isn't what I thought I wanted, can I exchange my purchase?
Absolutely, we want you to love your LLs as much as we do. We offer a two week exchange period.
Do you do custom orders?
Absolutely! We love doing custom orders, email us at info@lavishleathers with your perfect accessory wants!
What are you hooks made of?
All of our hooks are made from nickel free iron. We carry four styles; silver, gold, antique gold and antique bronze
I lost one of my earrings, can I order a replacement?
Yes you can, we'll also offer you a discounted rate for your missing LL.
My team wants to order matching earrings, do you offer team discounts?
Yes we do. Email us at info@lavishleathers.com for team discount information.
Do you offer sterling silver hooks?
Yes we do, please let us know if you are needing this when you make your order.
My LL broke, do you do repairs?
So sorry to hear that! Yes we do offer repairs. Please send us an email with an attached image of your broken product and we will get it fixed asap.
My store would love to carry Lavish Leathers, do you do wholesale?
Yes and we would love to talk to you more about our wholesale pricing and policies. Please email us at info@lavishleathers.com
If you ever have a problem with your accessory please email us, we want you to love your Lavish Leathers as much as we do!
info@lavishleathers.com